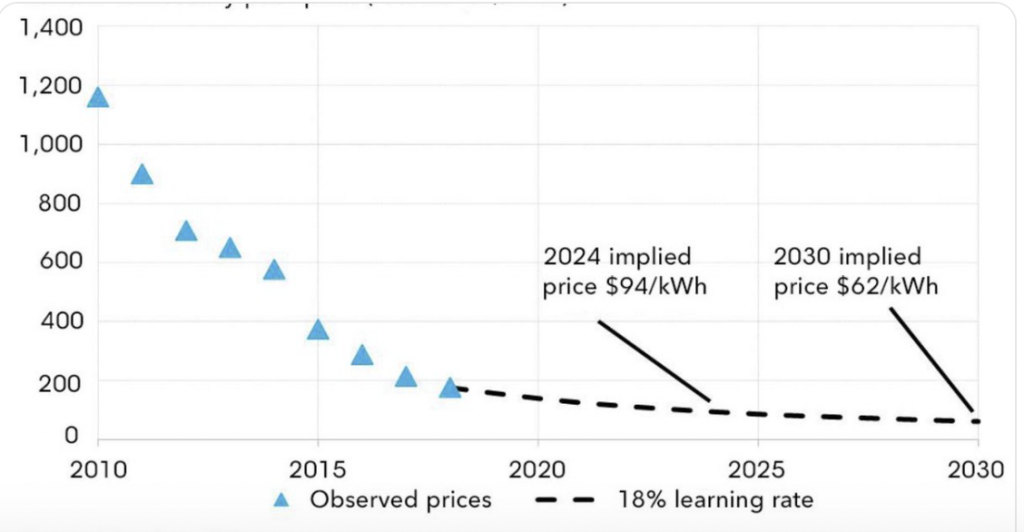 Cheaper Lithium-ion batteries are regarded as constituting a Technology Landmark for use in an OmegaMap. Its widespread use would contribute significantly to making renewable energy storage more popular.
The information presented here is based on an article "A Behind the Scenes Take on Lithium-ion Battery Prices" written by Logan Goldie-Scot and published in Bloomberg NEF, on March 5, 2019. Prices are anticipated to fall at a rate of 18% per annum to the year 2030.
The locus of innovation is a combination of new Principles of Operation causing higher energy densities and cycle lives, as well as larger production runs.
The effect of this innovation is to improve the Functionality : Store-Energy. Its position in the techno-sphere is indicated on the Functionality Grid. (See diagram below).
As mentioned above, two Functional Performance Metrics are referred to:  (i) Energy density – kilowatt-hours per unit of weight or space. (ii) Number of recharge cycles. This source does not provide information on these.
The Technology readiness level, on a scale of 1 to 9, is TRL9 : i.e., "Actual system proven in operational environment".
Technical terminology is covered in: Van Wyk, Rias, (2017) Technology: Its Fundamental Nature, Beau Bassin, Mauritius, LAP LAMBERT Academic Publishing, (http://amzn.to/2Avsk3r)
For descriptions of:
Technology Landmark; pp. 83-84, Diagram 11.1, Stage 3
Principle of operation; p. 20
Functionality; pp. 24-25
OmegaMap; pp. 92-93
Functionality Grid; pp. 29-32
Technology readiness levels; pp. 22-23